An overview

The Missouri S&T Green Roof atop Emerson Hall features 16,000 plants arranged in the shape of a shamrock and provides research and teaching opportunities for faculty and students. Most of the plants growing on the roof are a variety of sedum and all were chosen for their ability to thrive in direct sun and wind with limited water.
Three Sections

The roof is divided into three sections, each covered with different roofing materials, which allow S&T researchers to compare the water runoff control, water quality and thermal properties of each material.
The first section is a standard black rubber roof.
The second section is covered in white thermoplastic polyolefin (TPO) roofing membranes. TPO roofing systems are believed to improve a building's energy efficiency by reflecting heat from the sun. They provide resistance to ultraviolet, ozone and chemical exposure.
The third section is a GAF-produced GardenScape roof. A base layer of TPO material is covered by a drainage system and then topped with regional vegetation planted in a growing medium similar to the topsoil found in central Missouri.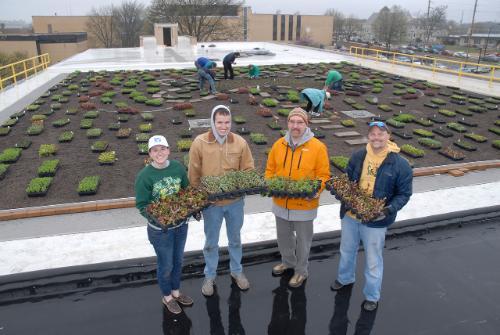 More than 50 S&T volunteers placed the plants
Project funding

The green roof and its subsequent research projects were made possible through a unique collaboration. The physical facilities department at S&T led the design of the roofing project and placed the green roof mat and growing medium on the roof. More than 50 S&T volunteers placed the plants.
Materials for the roof were donated by GAF Materials Corp., the nation's largest roofing technologies firm. Helene Hardy-Pierce, vice president of technical services for GAF, was instrumental in securing the donation. Hardy-Pierce is a 1983 engineering management graduate of Missouri S&T and is a member of the Missouri S&T Board of Trustees.

Components of Extensive Green Roofs
Green Roof Components, pictured left, were shown to decrease stormwater runoff from the roof by more than 60 percent. Many urban areas have tremendous stormwater issues when dominated by impervous surfaces that do not infiltrate or slow down rainfall.
The other great benefit for large urban areas is to mitigate the heat island effect. Large urban areas retain the sun's energy as heat and can be around 4 degrees hotter in the day and 12 degrees hotter at night. When the green roof media retains rainwater, the evaporative cooling can dissipate the sun's energy, just the same as sweat.
The savings for reduced air conditioning would be in the billions nationally if we could deal with urban heat island impacts.
The team at S&T is looking to help in this endeavor.